Services
Equipment and Modalities offered through Hudson Valley Animal Wellness
We understand that every patient and every owner will have particular requests and needs in treatments for their pets. Other limitations may come through certain modalities not being an option or no longer being an option such as long term NSAID, steroid, opiate use or the inability to pursue surgical repairs due to financial or logistical restrictions, or due to an owner's personal preferences. We have treatments that accommodate those specific needs and are always willing to work alongside pet owners to establish what is going to be the best wellness treatment plan for everyone involved. Listed below are different modalities that Hudson Valley Animal Wellness offers to accommodate a large range of patient needs. To see firsthand some of our patients receiving their therapies go to our Facebook page.
Location
6006 Route 209
Suite 102
Kerhonkson, NY 12446
Hours
Monday 9-4
Tuesday 11-4
Wednesday – Closed
Thursday 9-4
Laser therapy on Fridays by
special appointment.
Saturday and Sunday – Closed
Special accommodations can sometimes be made during off-hours. Please contact us for more information.
Underwater Treadmill therapy can be used to treat a wide range of medical issues that your pet may be facing from osteoarthritis, to neurological disorders, to weight loss and many more conditions. It can also be used for general wellness and conditioning. The 350 gallon tank is temperature regulated to keep the water warm which provides an instant soothing relief to painful joints. Our technician(s) and assistants work very hard to properly acclimate your pet to the treadmill to make it a positive and enriching experience. The underwater treadmill as it fills provides displacement of the patient's weight making him/her more buoyant and therefor putting less pressure on each limb while the differing speeds of the treadmill provide the "workout" to build muscle and strength.
The underwater treadmill is a fantastic option for exercising your pet after surgery. The depth of the water can be changed to control the amount of weight that be being placed on the limbs while varying the speed of the treadmill to get your pet up and moving as quickly as possible for a better recovery.
For those instances when surgery is not an option we may still determine that treatments in the underwater treadmill can be extremely beneficial. Benefits include maximizing how much muscle is otherwise lost due to inactivity, control a pet's exercise while he/she is recovering from injury and help a pet's mental well being by allowing those with degenerative diseases the opportunity to walk with the support of the water.
If your pet is overweight, the underwater treadmill can be a great way to help your pet comfortably shed those unwanted pounds. The rehabilitation therapist will start your pet slowly and gradually increase his/her time and pace as their weight decreases and they get into better shape to improve their overall health.
For those canine athletes that need an additional challenge, the underwater treadmill can really push your pet to his/her limits. Cardiovascular fitness endurance, and muscle mass can all be increased when your pet exercises in water. And for those times of year when outdoor exercise is not ideal this provides you both with an option of keeping him/her in shape year round.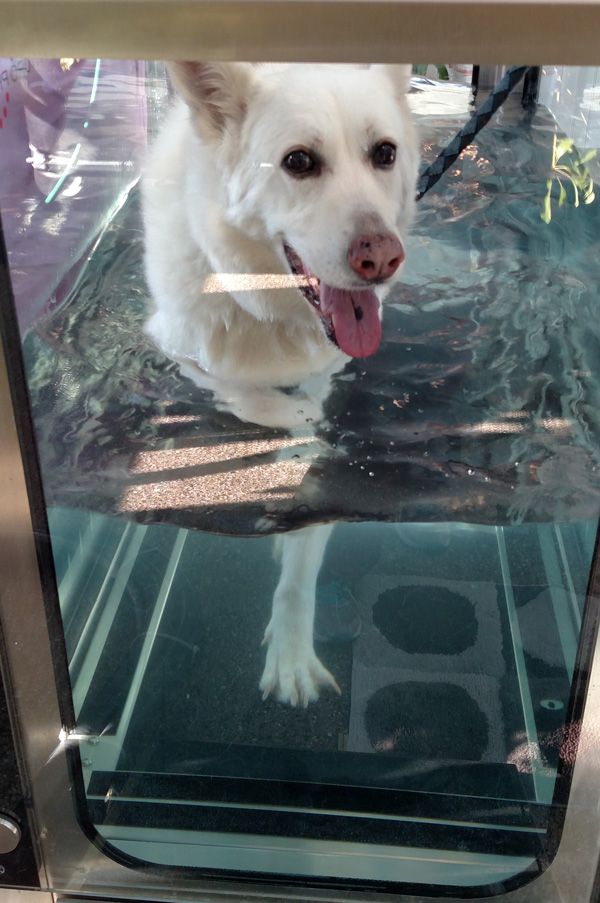 Assisi Loop
This is a proven medical treatment that utilizes Pulsed electromagnetic field (PEMF) technology. PEMF devices typically employ electric microcurrents to generate a low-intensity, sub-thermal, pulsed electromagnetic field. By emitting bursts of microcurrent electricity, the Assisi Loop creates a field which evenly penetrates both soft and hard body tissue around the target area. This electromagnetic field causes a chemical cascade, which activates the Nitric Oxide cycle. Nitric Oxide is a key molecule in healing for humans and animals. The compound is released when we exercise, and when we are injured, for the body to naturally repair itself.
The Loop increases Nitric Oxide production to help speed healing of soft and hard tissues—that includes skin, tendons, ligaments, bones and organs. The specific ratio of frequency to burst width used by the Loop has been found to be the most effective at delivering the amount of current that is similar to what is already used by the body. More is not always better, and too much Nitric Oxide production can actually slow healing. When choosing a PEMF device, it is good to know that more power is not correlated with faster healing.
In general, tPEMF™ can be used to speed healing, reduce inflammation, and lower pain levels.
For any kind of orthopedic injury or surgery, the Loop is a great tool to use in the recovery stage.
The field penetrates fur, bandages, and casts to reach all the tissue in the target area.
The NPAID® (Non-Pharmaceutical Anti-Inflammatory Device) seal on the Assisi Loop confirms the device has been scientifically proven to alleviate pain and inflammation in animals without the undesirable effects caused by extended use of pharmaceuticals.
More information regarding the Assisi Loop and NPAIDs may be accessed through our references page of this website.
Help 'Em Up™ Dog Harness
These harnesses offer relief to both your pet and yourself by providing a consistent and stable manner in which you and our therapists can help your pet ambulate with greater ease. Available to patients in all different sizes ranging accommodations from 8lbs up to 220lbs. Providing support at your pet's shoulders and hips with easy to grab handles enables you to assist your pet with differing levels of assistance depending on their individual needs. Including but not limited to help with stairs, sitting to standing positions, to assistance with other therapies such as additional support with Underwater Treadmill therapy. You can see some of these harnesses in use on the Hudson Valley Animal Wellness Facebook page.
Ace Ortho Leg Braces
Hero Dog Knee Braces are an alternative support when surgical repair is not an option, and can also provide proper immediate support to patients recently recovering from surgical intervention while they heal. These braces work with injuries such as ACL and CCL injuries. Injuries to your pet's cruciate ligament in his/her knee. Utilizing a brace can provide the extra support needed to enable your pet to move with greater ease, in less discomfort, and faster than healing on their own without the additional assistance.
Land Treadmill
Another option to strengthen and muscles while improving endurance and overall conditioning. Is typically used when the Underwater Treadmill isn't warranted or isn't an option for any reason. Pets tend to take exaggerated strides while walking on a land treadmill which promotes extra muscle mass to build. This modality is a wonderful option especially in bad weather or cold climates when the environment can make things more risky including falls, slips, and sprains for both human and pet.
Laser Therapy
There are many conditions in which laser therapy can be beneficial and a non-invasive way to treat your pet's health issue. Laser therapy has many benefits including but not limited to anti-inflammatory attributes, pain management, scar tissue reduction, promotion of healthy new tissue formation and blood supply, a non-invasive approach to be used when other therapies are not tolerated (such as acupuncture or muscle trigger/pressure points through physical manipulation), collagen production, and stimulating your pets body on the cellular level to encourage all of the above.
Stance Analyzer
This piece of equipment is used to measure how your pet is dispersing their weight over their four legs. Lameness and deficits can visually and manually be determined by our doctor, however, this tool gives us a number to tract exactly what percentages are going where. So, for instance, if your pet has a torn cruciate ligament we can obviously see which leg is injured and the doctor can confirm that with a present draw in the knee joint. This analyzer then lets us see exactly what percentage of their entire body weight they are distributing to their injured leg vs their other legs and lets us quantify and measure progress of their rehabilitation. The scale is separated into four quadrants for proper measurements on each limb.
Cavaletis & Toto Fit Balance work (Donuts, wobble boards, etc.)
These pieces of equipment focus on precise movement, awareness, and core strength. The cavaletti's which are bars that your pet steps or jumps over are used for fore and hind limb strengthening, core strengthening, and overall coordination of how they are using their own body. Walking through these courses encourages muscle strengthening and awareness. Wobble boards, disks, and inflatable donuts are all used for core strengthening and awareness as well.
Different exercises and balance work can be asked of your pet depending on their skill level to build and maintain core strength which will help to prevent them from future injury and help them to rehabilitate muscles that have deteriorated due to an injury or inactivity. These exercises can also be used for show dogs- to create a strong top-line, for working dogs and service dogs who put their bodies through vigorous demands on a daily basis and even your couch potato to prevent injuries from something as minor as a slip. Core strength and exercise are important for all of us even our pets, it's also lots of fun.